We transform your Jewelry CAD models into physical jewelry products. Learn more about which materials you can jewelry your jewelry produced in with Gildform.
Our Materials
After you've uploaded your 3D model, select the material that you'd like to have your pieces produced in using Lost-Wax Casting. (Lost-wax Casting is a process that we use for creating your jewelry products by pouring your desired molten metal in a mold.)
Your selection will automatically calculate your price for production and material. All materials are quoted in real time using the metal market for the most transparent and accessible pricing.
Some selections have a minimum order and the buttons are inactive and unclickable until you enter in the minimum quantity or more.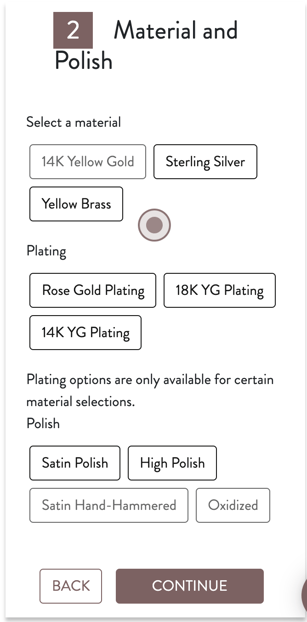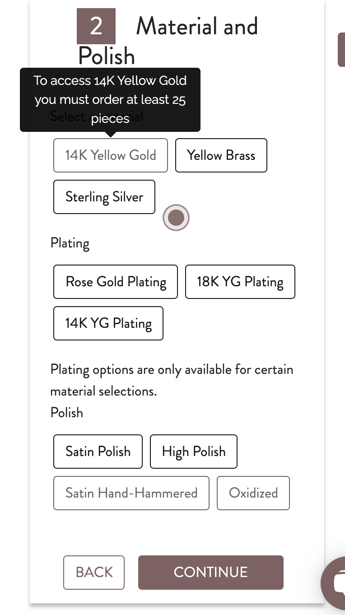 Our Material's General Information
We work with an American refiner for our silver and gold materials. Refining in its simplest form means they collect gold and bring it back to its refined state. This minimizes the impact that Mined Gold has in the industry such as the environmental and unfair impact mining has in the areas of the mine and its surrounding communities.
When producing with Gildform your products are made of 100% refined cast alloys. All metals are sourced in the USA with 100% ethical-sourcing practices and fair-trade. We only source precious metals (gold and silver) that have been audited by the Scientific Global Services (SCS), a global leader in the third-party environmental and sustainability certification, testing and standards development. Also, all our metal alloy suppliers are certified by the Responsible Jewellery Council.
| | | |
| --- | --- | --- |
| RG | Rose Gold | Rose Gold is a timeless pink-colored gold, that's easy on the skin, shows details nicely and capable of a brilliant polish. It's composition is 58.33% pure gold, 39.59% copper, 1.46% Silver, 0.62% zinc |
| 18K | 18K Yellow Gold | 18K Yellow Gold is a rich, bright-yellow composition of 75.20% pure gold, 10.11% copper, 14.2% silver and 0.49% zinc. It's skin-friendly, high-quality and capable of a brilliant polish and fine details. |
| 14K | 14K Yellow Gold | 14K Yellow Gold is a skin-friendly bright, low silver alloy that is a true staple for most modern-day jewelry brands. It's composition is 58.33% pure gold, 30.74% copper, 4.68% Silver, 6.25% zinc |
| S | .925 Sterling Silver | .925 Sterling Silver is truly the jewelry brands go-to for go-to-market products. This high-quality silver allow is composed of 92.5% silver and 7.5% copper. It's a must-have for all jewelry collections. |
| Y | Yellow Brass | The copper-based Yellow Brass is great for final product as-is plating or even for prototypes - if you want to save some costs on materials but want to see the look and feel in metal. This hard composition of 15% zinc, 5% tin and 80% copper alloy will add a classic look to your design. |