Learn more about the plating options that we offer when manufacturing your jewelry
Achieve the look and feel of gold for your jewelry designs without the gold price.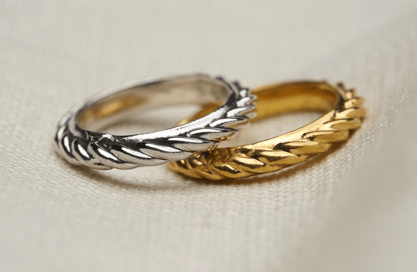 Gold Plating
The benefit of plating is your products will be long lasting with an approximate 2.5 micron gold thickness. Please note that all plated products are subject to wear over time, depending on storage, customer care and wear. How long the plating will last depend on how your customers wears and cares for them. We urge that you educate yourself and your customers on how to care for plated jewelry prior to producing gold-plated jewelry, as we make no warranties on how long the plating will last on your products.
How It's Done
We us an electroplating technique to apply a thin layer of gold on the surface of your mast metal piece. If you are choosing a silver cast base with a gold plating in your desired karat and color, we use a plating for vermeil plating that will elevate the value of your products.
Plating Offerings
We offer plating on 925 Sterling Silver, yellow brass and White Bronze pieces. The following plating options are available: 18K Yellow Gold, 14K Yellow Gold and Rose Gold.