Learn more about the polishing option(s) that you can choose from when manufacturing your jewelry with Gildform
Before the polishing can begin your piece must be cast. The Gildform casting method combines "Lost-Wax Casting" (A time-tested jewelry-making process used for centuries) with advanced tools for high-quality casting every time.
After casting each of your products will be polished (and assembled, if applicable) to your specifications. We use an 8-step quality check procedure to ensure the final product meets your standards.
Choose your preferred polishing type from the following options: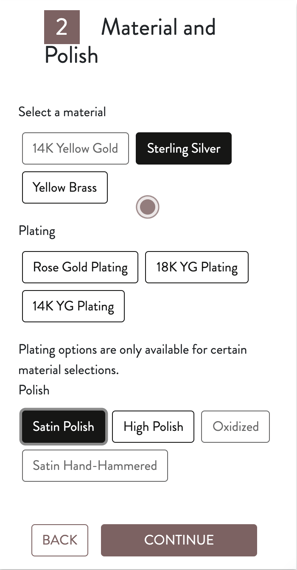 Please note that some polishing options may have a minimum order quantity requirement.
| | |
| --- | --- |
| Polish Type | Description |
| Satin Polish | A polishing to achieve the smooth surface without the shiny reflection. Think of this as foggy mirror! |
| High Polish | A substantial polishing that is done by hand to achieve smooth, shiny and reflective surfaces. Choose this polishing type if your piece has intricate details that you'd like to reach. Consider that some details may get lost from polishing. |