Gildform is a cloud based design and manufacturing platform and on demand manufacturing with 3D printed jewelry.
Overview: What is Gildform?
We're an all-in-one, cloud-based solution for producing jewelry ideas from concept to creation. Independent designers, emerging brands and corporations can hire from a global network of technical designers or Jewelry CAD for 3D model creation and produce their products on demand.
Creating your products on-demand, we fully produce your products in our Detroit-based manufacturing facility.
Design with Gildform
To get started bringing your vision to life in 3D model form, we will need to have an image of your design idea.
Sketches and references images (with annotations) are always welcome, the more detailed the better. We'll use your sketch to create a 3D Model of your design. If you do not have a sketch, we can assist you in the design during a design consultation. Fill out this form to get started on your consultation.
Once your design is ready, you can upload your sketch here for a 3D model quote.


When you are on the Get Started page, hover over the Design it with Us button.


Fill out the form that pops up and hit submit.
If you need help with sketching your ideas out, click the following link download the free Gildform Design Templates.


We've created design templates for sketching rings, bracelets, pendants, earrings and more. Just download, print and sketch. If you have a tablet or computer, you can sketch directly on the templates as well.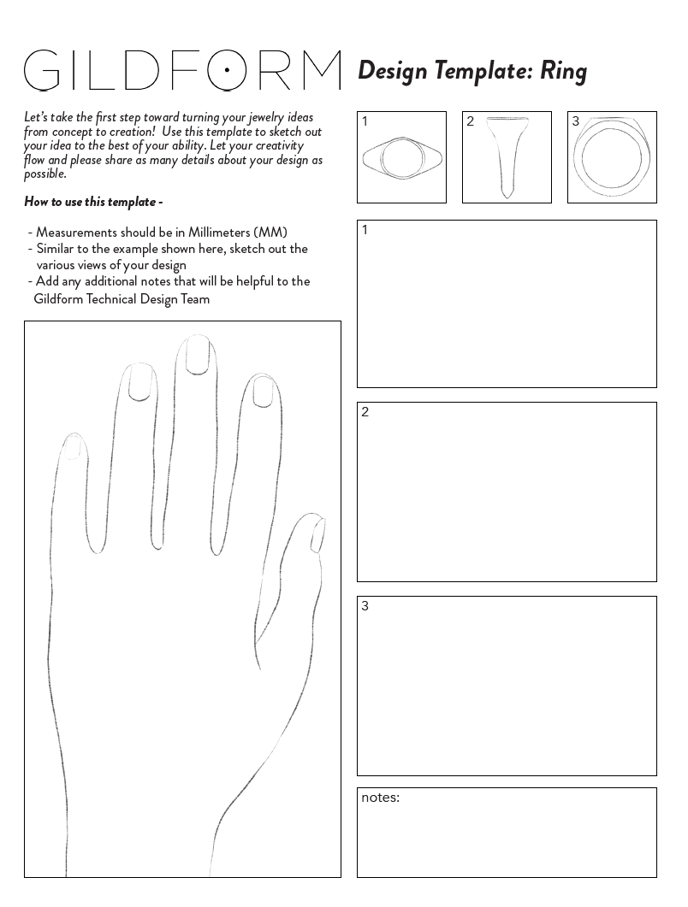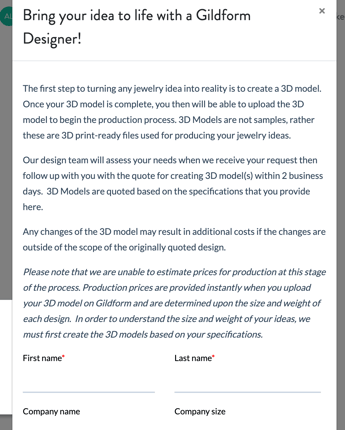 Details are everything!
Include as much detail as possible describing your design. This will assist us in creating 3D model.

More than one design idea? No problem.
When requesting 3D models for multiple designs, try putting them into a single document (pdf or word doc) and upload it into the form. Be sure to label each design, so that we can properly identify each unique design!
After you submit your design, we will begin working on your 3D model quote. When your quote is completed you will receive your quote from us for approval.
Once you approve the quote and submit your payment, we will begin creating your 3D Model.

Once your model is complete, you will receive screenshots to approve.


Any changes of the 3D model may result in additional costs if the changes are outside of the scope of the originally quoted design.

When your model has been approved, we will send you the file with your 3D model image. You will then be able to upload your 3D model to the platform to view it and place your production order.
Watch this video on the design process!