Gildform is a cloud based design and manufacturing platform and on demand manufacturing with 3D printed jewelry.
Overview: What is Gildform?
We're an all-in-one, cloud-based solution for producing jewelry ideas from concept to creation. Independent designers, emerging brands and corporations can hire from a global network of technical designers or Jewelry CAD for 3D model creation and produce their products on demand.
Creating your products on-demand, we fully produce your products in our Detroit-based manufacturing facility.
Design with Gildform
To get started bringing your vision to life in 3D model form, we will need to have an image of your design idea.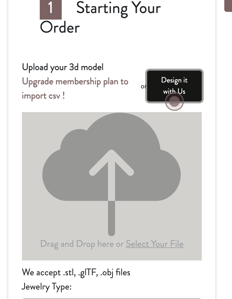 To get started bringing your vision to life in 3D model form, you will need to have an image (reference photos or sketch) of your design idea, as well desired dimensions.
You will need to sign up on Gildform Marketplace as a customer (if you don't already have an account with Gildform). Click here to Sign Up

How to Sign Up?
Once you're logged in just select the "Get Started" Tab on the upper right corner of the page then Create a Project.

From there you can either upload your own 3D Model or work with our available CAD designers by starting a project

For more requirement details once you upload your 3D model, read How do I determine my dimensions for my jewelry sketches/3D models?
If you selected "Start Project" you can choose to either create a single project or a collection. Click the links below for more details.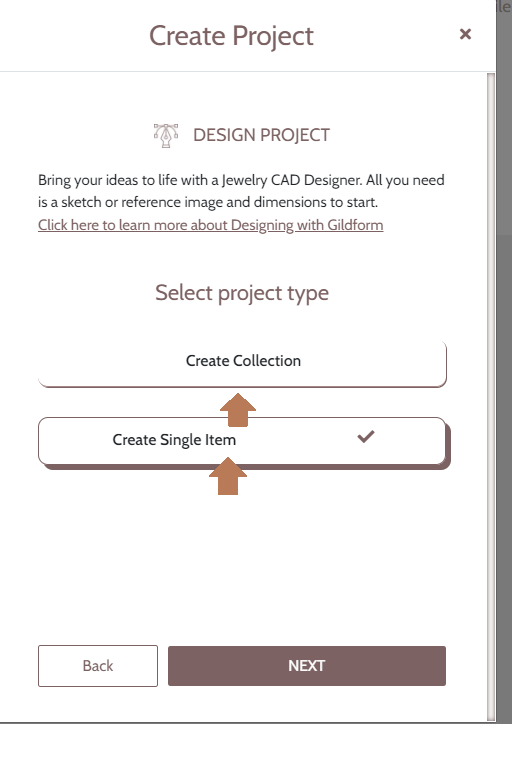 Any changes of the 3D model may result in additional costs if the changes are outside of the scope of the originally quoted design. Please inquire with your hired Jewelry CAD Designer.


If you need help with sketching your ideas out, click the following link download the free Gildform Design Templates.


We've created design templates for sketching rings, bracelets, pendants, earrings and more. Just download, print and sketch. If you have a tablet or computer, you can sketch directly on the templates as well.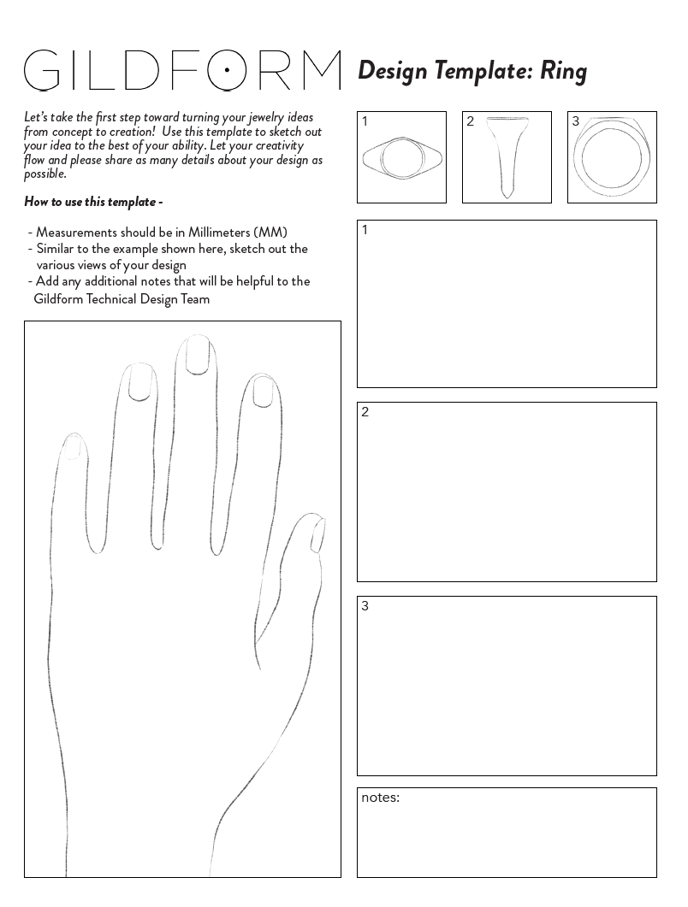 Details are everything!
Include as much detail as possible describing your design. This will assist us in creating 3D model.

More than one design idea? No problem.
When requesting 3D models for multiple designs, create a collection.