Learn how Gildform creates your custom 3D printed jewelry designs from concept to creation using cutting edge jewelry manufacturing processes.
1. Upload your 3D Model(s) and place your order
Learn how to place an order with Gildform
2. Once we receive your order, our production team reviews your order and prepares your 3D model(s) for 3D printing
Click here if you're having issues with understanding manufacturability when designing your jewelry

3. Your 3D Model(s) are 3D printed
Push the boundaries of jewelry design with the freedom 3D printing provides. Whether you've ordered a sample or a full production run, each piece is engineered to perfection. With the embrace of modern jewelry manufacturing, you can get new products to market faster than ever.

4. We cast your 3D printed models using Lost-Wax Casting in the Material that you've specified in your order
The Gildform casting method combines "Lost-Wax Casting" ( A time-tested jewelry-making process used for centuries) with advanced tools for high-quality casting every time.
Learn more about our Materials

5. We polish your cast pieces according to your selected polishing type
After casting, each of your products will be polished to your specifications.
Learn more about the Polish Types that we offer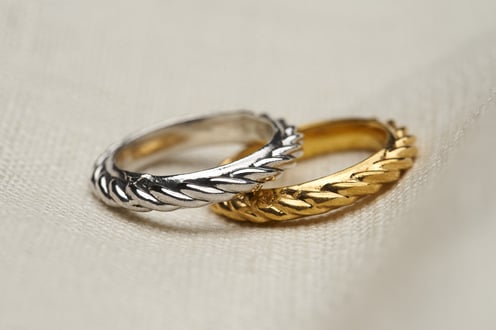 6. We will Assemble & Plate your jewelry (if applicable)
If you're pieces require Assembly and/or plating, we will do this work according to your specifications set at the time of the order.
Learn more about our plating features
7. And last but not least, a Final Quality Check is conducted
Once everything has been made to your specifications, our Quality Team will review your pieces to ensure that your jewelry products are made to our quality standards and have been made to your specifications.
8. And Voila! We will ship your pieces to you
Once completed, your order will be packed with the same care it was created with, and shipped to your door. You'll receive an email with your tracking info enclosed and can track your order status within your account at any time.

Of course, you can track your order throughout the entire production process right in your Gildform Dashboard.

Learn more about managing and tracking your manufactured jewelry orders